The year 2020 will be memorialized on many fronts. Books will be written, documentaries produced, music composed, and art created to memorialize. A storm can unleash great change on a landscape, but while the storm rages, the passage of time is marked by the evolution of the terrain that shifts in the frenzy yet still exists apart. Life is like that, resilient even in the face of great calamity or the inevitability of loss. Like other years before this, the ScotianAires met our share of triumph, celebration, growth, sorrow and laughter. And these moments, these scattered treasures, are worth holding onto.

Despite the overwhelming restrictions imposed on gathering and singing during most of the year, the ScotianAires still found ways to sing and share our music. In early 2020, Eastlink TV produced a segment about the chorus with interviews and rehe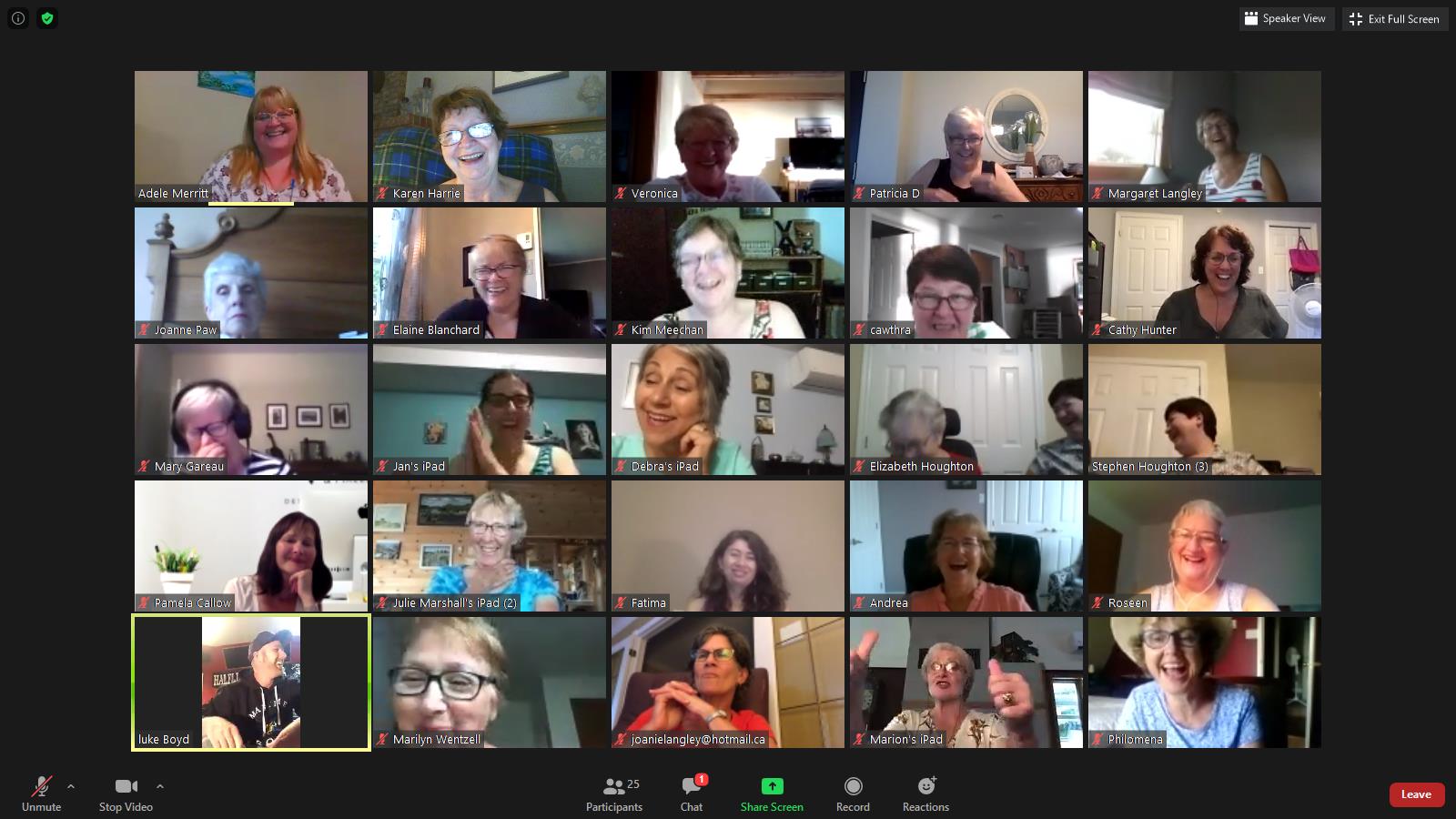 arsal footage that was released during Harmony Awareness Week. In March, International Women's Day was celebrated with a sing-out at Sophie's Place, a local mall dedicated to highlighting businesses run by women. Quickly adapting to online rehearsals on Zoom at the end of March, Director Sue Kember and our chorus leadership kept everyone connected and singing. Our directors and our music and performance committees included extras such as special guests, new music that went beyond our barbershop repertoire and popular features such as trivia sessions and the member spotlight. After a very tough spring which included the terrible events in Portapique and beyond, we shared our "Positivity Playlist", a video compilation of members sharing the music that kept them looking forward. You can still find these playlists on YouTube and Spotify!

Almost overnight it seemed, virtual choirs became the primary platform for performance. Members from the ScotianAires sang with InstaChoir's "O Canada 2020" and "This Is My Wish" as well as the worldwide production of "Sing Gently" by Eric Whitacre. The Harmony University Chorus working with famed a cappella promoter Deke Sharon sang "Into the Unknown" from Disney's Frozen and "Still the One" by Orleans with contributions from two of our ScotianAires. At Harmony Inc.'s Virtual IC&C in November, you could find our members among the Harmony Queen's rendition of "I Am What I Am/MyWay" arranged by Steve Tramack, as well as the Harmony Inc. International Chorus performance of Eric Clapton's "Change the World".

The ScotianAires produced our own online creations as well. During the summer, the "Tag Team" project invited members to contribute to audio and video compilations of song tags that were shared through social media or directly to members and fans in need of a musical hug. And the holiday season provided the perfect opportunity to bring all our new technical skills together in our Christmas virtual choir project "Have Yourself a Merry Little Christmas" which we were able to share with many of the locations where we would normally sing in person. (Thanks particularly to Assistant Director Adele Merritt and President Tanya Reid for lending their technical skill and determination to our virtual projects!)

Although most in-person performances were not possible, we did find ways to interact in-person while remaining safe. Drive-by celebrations marked birthdays and even took the place of our annual sing out for the ALS "Walk Str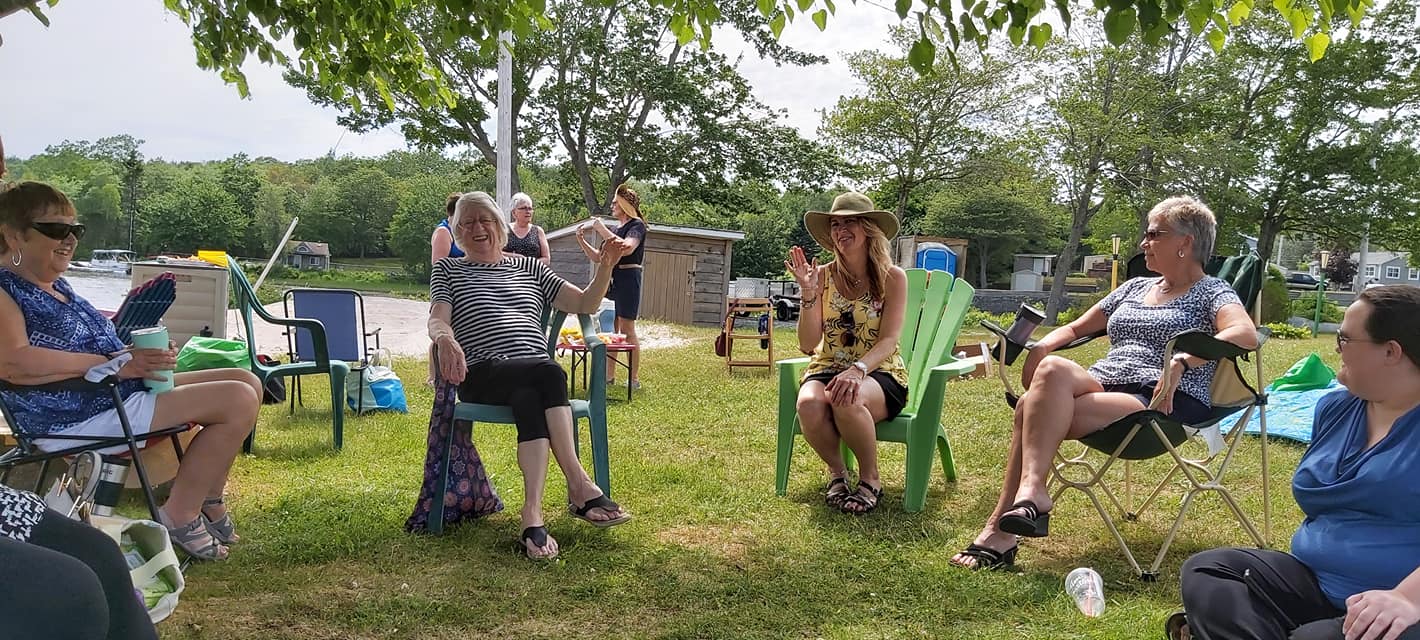 ong" fundraiser in June as we paraded in our vehicles in front of the home of our friend and former member, Joanne Stewart. Socially distanced walks and outdoor get-togethers, as well as surprise visits and treats, were a highlight of the warm weather months. After weeks of planning by a dedicated committee, at the end of October, the ScotianAires returned to some in-person rehearsals. Because of growing case numbers in the province, it could only last a few weeks …masked, distanced and with reduced numbers, but sweet harmony all the same!

We were not to escape our sorrows, however. Two long-time and cherished members, Carolyn Pettipas and Maureen Henley passed away in the second half of the year. We gathered online on two separate occasions to share our memories and celebrate our sisters in harmony and to remember the gift of their lives. It was important to be together and to take care of each other. The "KIT" group (Keeping In Touch) and later, "Mental Health Matters" committee made sure to check in with the membership and shared resources to help us bolster our mental well-being. Many small but meaningful acts of kindness passed from member to member.

It was also important to celebrate! After all, we added a Harmony, Inc. Performance Judge to our ranks when Fatima Whelan was certified in early 2020. Adele Merritt continued her journey toward certification as a music judge, and Assistant Director Cathy Hunter and Performance Chair Jill Reid attended virtual Harmony University during the summer. In the fall, Cathy took a well-deserved rest from her directing duties and Judy Robichaud was appointed as Associate Director.

Many of our members involved in music or board leadership hosted HIVE (Harmony, Inc. Virtual Education) sessions or were special guests at other chapter online rehearsals. Our singers took part in these virtual learning opportunities including "Harmony Harvest" in October with special guest, the a cappella king himself, Deke Sharon! Our installation moved online in June allowing the ScotianAires to celebrate our new Board of Directors and install a past director as an Honourary Lifetime Member. Shelagh Radcliffe (who is also a Harmony Queen with Metro Machine) directed the ScotianAires from 1994 to 2006 taking the ScotianAires to the Area 1 championship and IC&C multiple times! And even though we were not on our risers, our Grant Committee, Karen Harrie and Mary Gareau, secured two separate government grants to purchase our fourth level of risers. These have now been delivered and stored away for those happy days to come.

We held themed online rehearsals, threw a Zoom Christmas party, and celebrated our leadership with a special appreciation project. Led once again by the genius and generosity of Tanya Reid, the chorus sent individual messages of appreciation to our directors which Tanya collated and printed for each as a special thank you for their work over this challenging year.

When the storm hits you alter course. Our leadership adjusted quickly to maintain our chorus community. Our members responded, and the ScotianAires not only found their new path but provided inspiration and support to each other and within our greater barbershop family. The storm has yet to let up, but the treasures remain in defiance of any despair or defeat. We will sing beside you once again!